What to make of something so self-satisfied and glib?
It's like the sound of an expensive car door being shut inches from your nose, played on speakers of impeccable fidelity, in labs, where engineers work on the sound of the perfectly shutting car door.
But inside an advert. The director of which, at an advert industry awards ceremony, proclaims his artistic vision as descended from Albee and Coward.
Here scientists of contemporary life gather in the name of art to fine-tune an experience that is as edifying as putting your teeth through a glass coffee table. Responding to this play is like conversing with a piece of aluminium. Like being trapped in a chrome lift with the olfactory screaming of a coke-head's dusty farts. Totally complicit in in the vacuity it seeks to portray, it's perfectly captured by the xylophone baroque muzak piped through at scene changes.
Ostensibly a drawing room comedy about affluenza and how not to fuck yourself better, Ed Stoppard plays a thirty-something American father in an ailing marriage.  Energetically pulling the whole thing together, his gurning face, caught in the filmic blackouts, continually looks as though it popped over a picket fence in a forgotten 1950s American sitcom.  His performance is that of an animated Dilbert cartoon, and in the moments he ably channels Woody Allen, the script, a  frothy draught of bitching-lite, comes up dry.  His unloving partner is played by Melanie Gray, as their horrible marriage is made even more horrible by the intervention of lothario friend (John Schwab), who says things like "I think it's easier to love a retarded baby if it's yours" and generally acts as improbably macho as his friends are precipitously neurotic.  His latest in a string of young girlfriends is played by Agyness Deyn.
www.nymag.com/fashion/models/adeyn/agynessdeyn/
www.agnynessdeynfuckyeah.tumblr.com
About me: This is a fansite of the Agyness Deyn. First, I AM NOT AGYNESS DEYN.
www.agynessdeyn.fansiter.com/pictures/welooklikeagynessdeyn.html
134,451 Facebook likes
www.whosdatedwho.com/tpx_60771/agyness-deyn/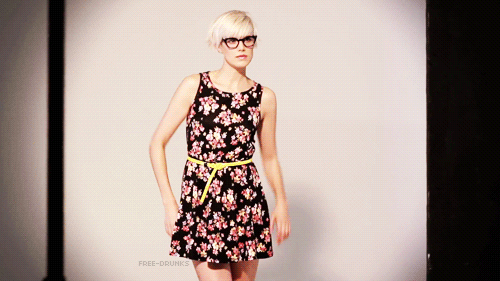 Up close Deyn's skin is remarkable: from lemon morning to beige afternoon.  Her limbs like pearlescent spills of hand-soap. Her performance has some of the blank quality of Sissy Spacek in Badlands, a bored American accent, the rustic waif with a streak of psychopathy a highway wide.
At times, when roused, she moves like a spider late for work, but spends most of tonight operating at strange slow speeds, as if operating on some other social time, some international dateline clock where she's got to be three places at once and won't turn up at any of them.
A model famed for her boyish mannerisms – occasionally her gait resembles a deer ploughing through a vanload of mogadon, or a young prince that's just woken up.
Laggy, but beautiful.
There is a vast distance between the beginning of an action and its drawing to completion.  It is unmistakeably the deportment of a model. In that distance is encoded decades of the industrially elegant body which ambivalently courts the gaze; of camera flashes and hard drugs rendered like chiffon, where physical minutae is fetishised, and display normalised.
She is unmistakeably a star.  To be a star is to be slow, slow as gravity. This slowness is an act of control over the time-space of the raging industry which positions itself at the centre of the universe and of which you are the centre.  Slow enough to allow yourself to be looked-at fully, and to be, not just appear to be, wholly unconcerned.
But whereas the actor must, somewhere in their heart, be concerned, to animate a character as if it were a world – the model is never asked.  Suitably vacant, this is the performance of someone beautiful who was never asked.