---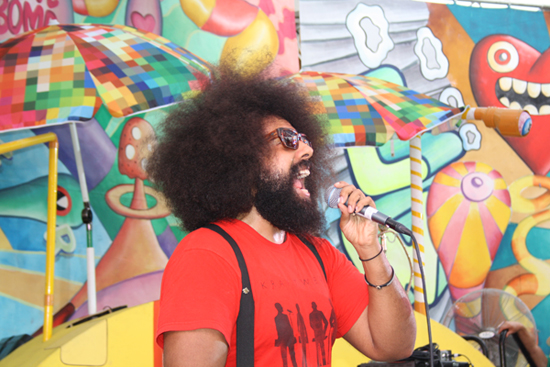 ---
Reggie Watts' performance at TED, the global whitebread futurist convention, was a surreal and dazzling deconstruction of the traditional TED talk. In form he totally sends up the standard of the tech-clad geek dallying with objects, laser pointers and the prostheses of gadgetry – reintroducing a gutsy physicality and nodding in his allusive style to embodiment as he beatboxes his way through virtuoso yet sardonically slapdash musical numbers. The grave intonations in that impeccable English accent point back at the old world that TED with its trainers and campuses and claims on cool have looked so carefully to shed, just as his southern hip-hop drawl and use of foreign language points to the unremittingly Anglo purview of the tech industry's notions of future. Their website calls it "disorientating", but it's pretty oriented. He's taking the piss out of geeks, with a vast sense of fun, and he's doing it very well indeed.
---
Related Features
Cross Generational Mash Up. Jane Greenfield, of Home Live Art, on community work and Ida Barr's Mash Up.
Don't Take It Sitting Down. How do you write? At a desk? In bed? Lydia Thomson on the creative benefits of not sitting still.
Programming Risk. Artist and activist Katy Baird on this year's Steakhouse Live and the benefits of artist-led initiatives.